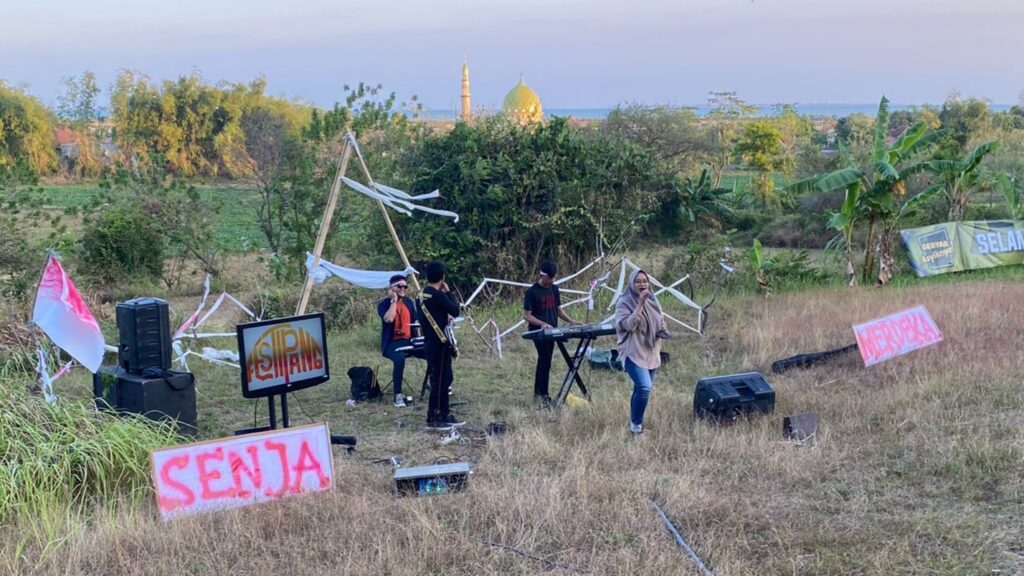 Untuk menyambut meriah puncak Sampang Brand Festival (Festipang) yang rencanya akan digelar pada bulan Oktober 2022 mendatang, Road To Festipang "SENJA MERDEKA" digelar di Dusun Mandangin, Desa Aeng Sareh, Kecamatan Sampang, Kabupaten Sampang, Jumat (19/8/2022).
Bertepatan dengan momentum peringatan Hari Ulang Tahun (HUT) Kemerdekaan Republik Indonesia (RI) ke- 77, kegiatan tersebut melibatkan banyak organisasi kepemudaan (OKP) seperti Sampang musik plus, Komunitas Kopi Sampang, Organisasi Mahasiswa, Komunitas puncak, Masyarakat Desa Aengsareh, dan lainnya.
Badrus Sholeh, Koordinator Humas Sampang Brand Festifal (Festipang) mengatakan, selain mengisi momentum kemerdekaan, kegiatan ini juga bertujuan untuk merajut silaturrahmi dengan berbagai komunitas yang ada di Kabupaten Sampang.
"Kita ingin merajut tali silaturrahmi dengan semua komunitas seperti komunitas musik, komunitas kopi, Karang Taruna, komunitas Sampoerna, komunitas Batu Akik, dan berbagai organisi kepemudaan lainnya," ungkap Badrus kepeda salsabilafm.com, Senin (22/8/2022).
Pemuda yang juga menjabat sebagai Ketua Pemuda Pelopor Sampang itu menjelaskan, kegiatan ini dilaksanakan dengan harapan masyarakat Sampang bisa mengingat bahwa Road To Festipang akan selalu digelar sebelum puncak event Festipang pada bulan Oktober mendatang.
"Seperti kemarin karena sedang peringatan kemerdekaan, jadi kita konsep tempat kegiatannya di alam. Dan untuk bulan selanjutnya mungkin kita akan keliling kopi shop dan tempat keramaian untuk mengajak dan memframing bahwa ini event lokalitas Sampang," katanya.
Selain itu, event ini bertujuan agar Sampang Brand Festipang bisa mendapatkan dukungan dari berbagai pihak, pertama dari masyarakat sendiri sebagai audien dan tentunya juga dukungan dari pihak sponsor. "Itulah alasan kami mengapa selalu show up kegiatan Festipang," pungkasnya. (Romi)